How to Make Money Swing Trading
What is Swing Trading?
Swing trading is a short-term trading strategy where traders utilize technical analysis, fundamentals, and market-shaping events to gain profits. It's a popular way for people to make money in the stock market.
Most swing traders typically hold their position for a few days to a few weeks. This short-term model allows for swing traders to obtain quick profits, which can have a noticeable effect on compounding account growth.
How Do You Make Money Swing Trading?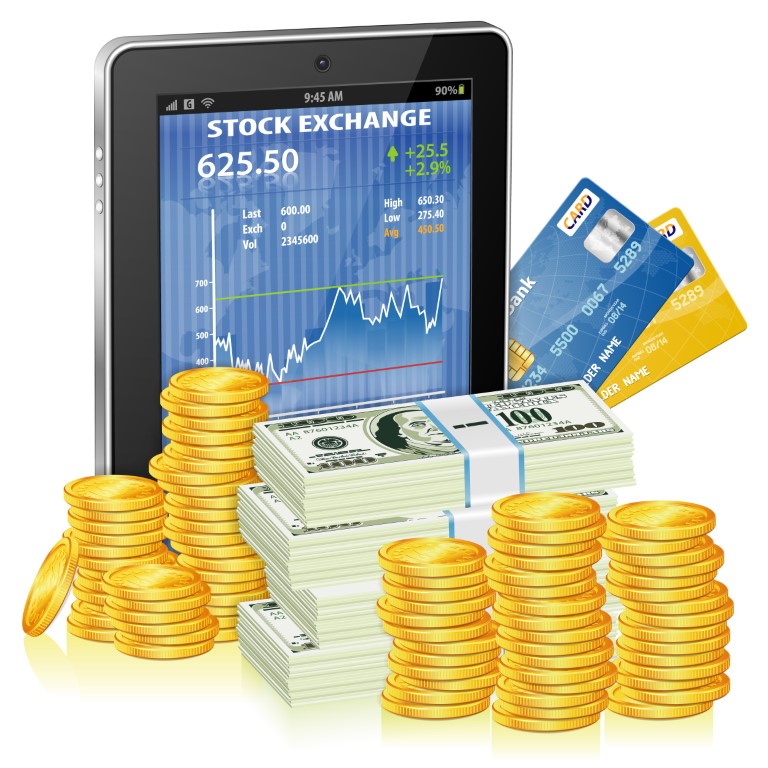 To make money with swing trading, you need to buy a stock or option and then sell it at a higher price. That's how you generate a profit. You sell a stock or option for higher than you bought it for.
The challenge is figuring out exactly when to buy and sell in such a way that you accomplish that. And we'll tell you something right off the bat: It's not as easy as it sounds and there also is no "holy grail" that will ensure you always make profits on your swing trades.
Ultimately, it comes down to learning swing trading strategies that have a track record of success and becoming comfortable with implementing them on a consistent basis.
How to Swing Trade Like a Pro
Although some people might get lucky and make money swing trading on Day 1 without any knowledge or skills, that luck is not likely to last for the long term. Anyone can get lucky on a trade or two.
To make serious money swing trading, you have to be able to repeat your success. And to do that, you have to learn the strategies and skills like a pro would.
Our swing trading course teaches the strategies, which includes swing trading patterns and indicators. Those should prove to be tools that help you make money swing trading. Our trading course is included with our service and only costs $19 per month.
The Swing Trading Community
The Swing Trading Club is a group of people from all walks of life who all have the common goal of making money in the stock market. We do our best to be welcoming to new members and to share the love.
Our swing trading discord chat room is where we all get together to talk about trade opportunities and share our successes.
Being able to engage with others and hear their trade alerts can be a great way to make money swing trading.
As anyone who has built anything worthwhile can tell you, it all starts with the foundation. Our tight-knit group will help you build this foundation and ensure all your questions get answered.
Our Swing Trading Performance
Swing Trade Example 1:
We added Diamondback ($FANG) to our watch list. We noted this might be a longer hold but we liked the direction of the entire energy sector, specifically this oil and natural gas producing company.
The energy sector had arguably been the hottest industry in the market, and we didn't see that changing over the short term. With favorable market conditions in an industry poised to benefit from the great reopening, it only took 3 weeks to turn this into a big-time swing trade for our members.
This 3-week hold translated to nearly a 20% gain for the Club members who took the trade.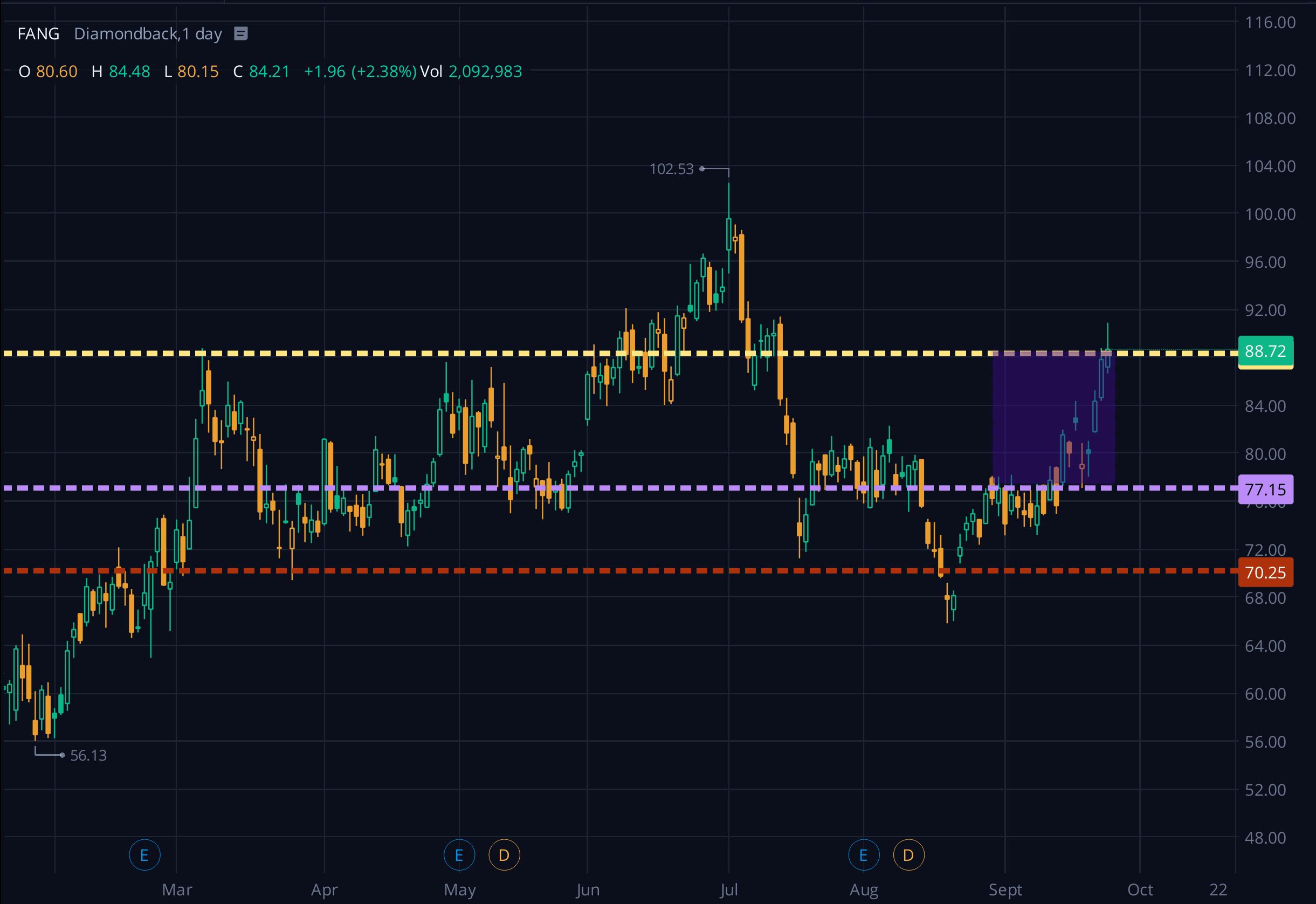 Swing Trade Example 2:
We added Upstart ($UPST) to our watchlist.
Upstart is an AI lending platform that has been a popular trade. We noted that, "After its most recent drawdown, we're once again approaching reasonable levels to open a position. As we trace back to the 100 Day MA, it's important to note the current downtrend. Make sure to wait for the suggested entry as this play might take longer to form. Short term trends suggest continuation of toward movement."
A huge nod to our traders for this swing trade pick, they nailed it! Not only did the trade return earlier than expected due to powerful tailwinds, but we made a 168% gain.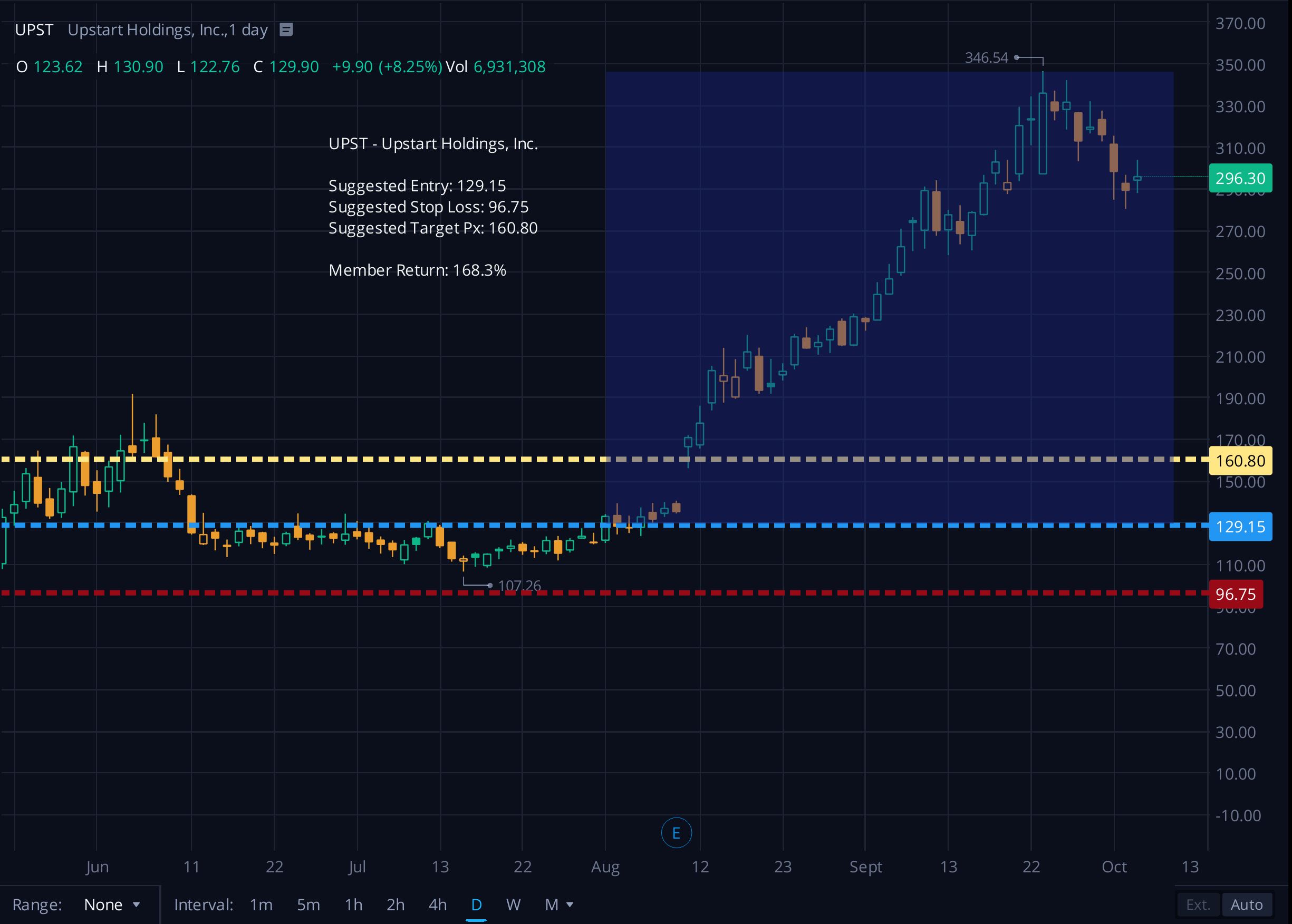 Free Newsletter
Sign up here if you want to get notified when we share market commentaries and updates about our members' swing trading profits.